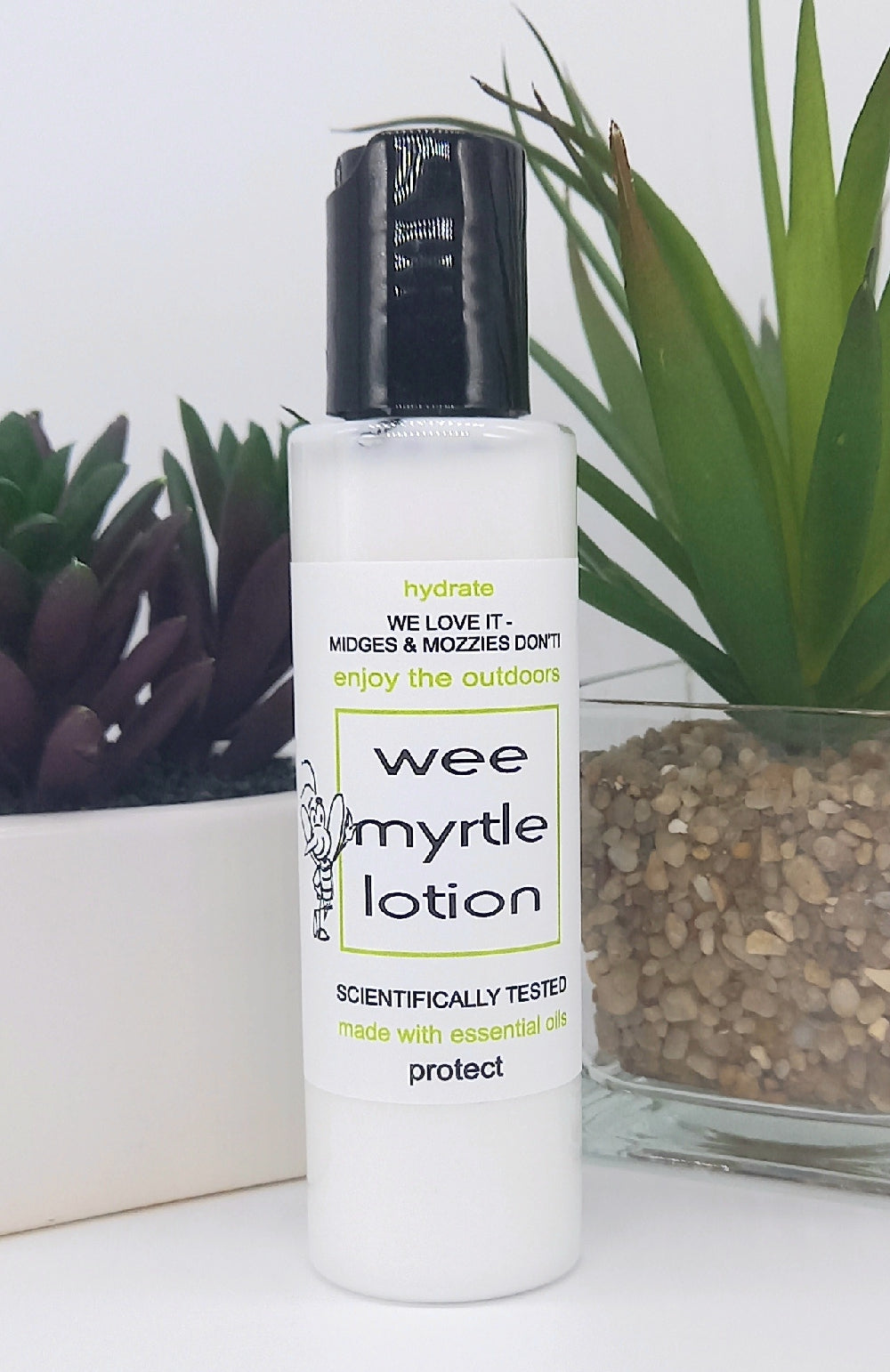 Wee Myrtle Body Lotion - Natural Skin Care we love, midges don't!
£8.00
Wee Myrtle Lotion is easily absorbed and will soothe, moisturise and hydrate your skin.  Use daily to keep your skin perfectly hydrated, protected and smelling gorgeous!
Scientifically tested by the team at the University of The West of Scotland, headed up by biologist Dr Richard Thacker and proven to be an effective insect repellent
Made with a blend of the finest essential oils
Lavender essential oil is calming and detoxing.   Midges and mosquitoes find it offensive, so it is a well know insect repellent
Lemon essential oil is a powerful antioxidant.  It is purifying, cleansing and uplifting and has many skin benefits.  It is also an effective repellent as insects don't like the fragrance
Bog Myrtle oil is said to be kind to sensitive skin.  It is also anti-ageing!  It has been used in the Highlands for hundreds of years as an insect repellent.  No fisherman would ever go out without a sprig of Bog Myrtle behind their ear
The combination of the oils and the gorgeous light lotion will protect your skin in so many ways!
The antiseptic and anti-inflammatory properties in Wee Myrtle Lotion can also help to soothe the irritation if you already have insect bites
Airline friendly, 70ml bottle that goes a long, long way!  and it smells fab too...
Wee Myrtle and MOZpro skin products are identical, in both ingredients and effectiveness
Reviews:
My favourite body lotion, I use it every day and has the added bonus
that I don't get bitten when I'm walking the dog!' Lynne, Oban